Lexicon Gallery and Lexicon Gallery Workshop Studios are devoted to bringing fine art, quality education (and great food!), inspiration and creative opportunities to the art and ceramic community and to the general public.
---
Lexicon Gallery was opened on December 7, 2014 by Seyrel Williams, co founder of Cape Ann Ceramics  Festival and Chris Williams, Graphics Wiz and Jack of all that needed to be done for the Cape Ann Ceramics Festival.
| | |
| --- | --- |
| Seyrel Williams, CBW Chief Bottle Washer, Gallery, Workshop & Event Planner | Chris Williams, Chief Graphics and Techno Wiz and All Things Related to Fire |
| Jenny Rangan has partnered with Seyrel  and Chris Williams to give birth to Lexicon Gallery Workshops and Events.  Jenny is  the Queen of  details  and gifted Wordsmith handling flyers, PR and lots of other behind the scenes details that make Lexicon work smoothly and look beautiful. | Jenny Rangan, Chief Wordsmith, Workshop & Event Planner |
Welcome back to the Mud Mavens!
---
Location
15 Lexington Avenue
Magnolia, MA  01930
Hours of Operation
Friday-Saturday  10am-5pm
Sunday 12-5pm
Starting June 2 and subsequent Mondays we will open during the Farmers Market from 4-7pm
or
By Chance
or
By Appointment
Seyrel@LexiconGallery.com
978-525-2111
THE BIRTH OF LEXICON GALLERY AND STUDIOS
On Sunday evening, December 7th, Gloucester welcomed another friend to its growing footprint of art venues – the Lexicon Gallery in Magnolia. Over 300 people gladly overstayed their welcome way beyond the 4-7 hours in order to enjoy the great company, food, hosts, and well-appointed artwork by 17 artists from Cape Ann and south and west to Boston, New York, and the Berkshires! Particularly noteworthy was the presence of fellow gallery owners – Mahri and Bill Bode of Mahri's, Cynthia Roth of Flatrocks Gallery, and Peggy Russell of Pop Gallery and City of Gloucester Council representatives, Bill Fonvielle (Ward 5) and Sefathia Romeo-Theken (Vice-President). Fellow artists Ken Bonfield, finger style guitarist (a long time seARTS advisor) and Christine Routhier, flautist, who volunteered their musical talents for the evening.
The message was loud and clear – we are all in this together, committed to making Gloucester, Cape Ann a complete arts destination – with important pillars in all of our communities like Magnolia, Lanesville, and Manchester. There was a great buzz, engaging conversation, and sales! But behind the scenes, what's even more exciting is that these two multi-dimensional individuals (Seyrel and Chris) have invested considerably in Cape Ann's infrastructure as entrepreneurs and artists as well as Board participation at seARTS and co-founders of the Cape Ann Ceramics Festival (CACF) – jumping in with all four feet so to speak. The gallery will expand to house the CACF to include three new space that will include glaze and kiln rooms for workshops starting in the spring. So arts education to add to the portfolio!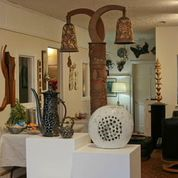 For those wondering about the terms "Creative Economy" and "Cultural Economic Development" this is it, live and in color. It's happening all around us. And it's a wonderful marriage of those who have done it for the last 35 years and those who are coming forward today. If you missed all the fun, stop in Friday-Sunday 12-5pm for a visit or contact Seyrel Williams  to make an appointment.